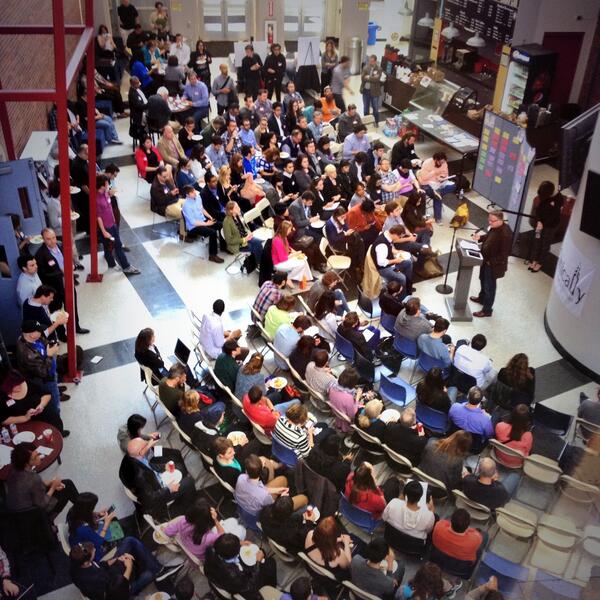 On Sat. April 26, the sixth annual Barcamp News Innovation was the largest yet — more than 250 people attended throughout the day. Of the more than 30 sessions, they included:
A track of learning from Google.
Another round of pre-planned sessions to help foster ideas.
A second year of partnership with Content Camp, an effort that brings content marketers, social  web strategists and other digital publishers to our crowd of reporters, editors and news industry types.
We had a jobs board, where content roles could be placed for attendees to seek.
No hackathon this year, but some brainstorming for a future one.
Find the schedule on a Google Doc here or below. People wrote smart things about the day here, here and here. Below find the full schedule.
9:00 am: Doors open for coffee and bagels, brought to you by Philly.com
10:00-10:45 am: Session One
Room 2 [45 people]: More Q than A: How and When to Manage Negativity in Social  Marketing
Room 3 [75 people]: Reporting in a crowded field: Philadelphia's built environment  featuring Liz Spikol (Phillymag's Property) Peter Woodall (Hidden City)  Sandy Smith (Philly Real Estate) Matt Golas (PlanPhilly) and Jon  Geeting (This Old City)

Room 4 [50 people]: The new LAMP stack (Literature, Art, Music and Poetry): What the analog  humanities can teach us about digital media led by Greg Linch  (Washington Post)
Room 302: Content as a Service:Â  artificial scarcity in a post-ownership economy: David Dylan Thomas

Room 304:Â The Story Discovery Engine: artificial intelligence for public affairs reporting: Meredith Broussard
Room 310 [20 people]: Social Media, Entrepreneurship and Politics: Whitney Hoffman
11:00-11:45 am: Session Two
Room 2: Let's hijack the article machine and turn it into an ATM led by Josh Cornfield (Associated Press).
Room 3: Beat reporters and sources: coexisting online together led by Kristen Graham (Philadelphia Inquirer) and Helen Gym (education advocate); Holly Otterbein (WHYY) and Jen Kates (Philadelphia City Council legal)

Room 4: Google Track: Search, Trends, Public Data, Authorship in Search led by Nicholas Whitaker (Google)

Room 302: Comics are Magic: why and how comics work as content

Room 304:Â How to make your content shareable @MartinWeinberg
Room 310:
12:00-1:00 pm: Lunch Keynote, Amanda Zamora, Pro Publica

1:15-2:00 pm: Session Three
Room 2: Innovations in Storytelling: get a fellowship/scholarship: @jdriz
Room 3:Sunlight Foundation and Internet Archive: Help us build a groundbreaking video archive pre election 2014

Room 4:Â Google Track: Google+ and Hangouts led by Nicholas Whitaker (Google)
Room 302: Tech Journalism Bubble: @editorialiste and @stevenlevy

Room 304:Â Workshop: Content modeling for mobile and responsive: @Sara_ann_marie
Room 310: Pick a business discipline and change your culture: William Davis @williampd
2:15-3:00 pm: Session Four
Room 2: Freelancers Unite: Tips and tricks on freelance contracts led by @mbloudoff
Room 3: WordPress AMA led by Aaron Jorbin, Daniel Bachhuber, Kevin Kohler, Will Davis

Room 4: Google Track: Youtube for Publishers led by Jason Hwang

Room 302: Content Shock: Cecily Kellogg

Room 304:
Room 310: Real-life engagement: get off your computer @migold
3:15-4:00 pm: Session Five
Room 2: Is it Content or Data: IA crosses the fuzzy line
Room 3:Don't save the News: focus on improving our communities, not protecting an industry led by @christopherwink and @ckrewson

Room 4:
Room 302:
Room 304:Â Design in Content Strategy: open forum
Room 310: Aggregation: Tools, What, When, and Then… - @Chronotope
4:30 pm: After-party Happy Hour at Draught Horse
See the 2013 schedule here, the 2012 schedule here, the 2011 schedule here and 2010 here and 2009 here.