When:
The 8th annual BCNI will be held Saturday, Oct. 15, 2016. Register here.
Doors open at 9 a.m. The first session starts at 10 a.m.
Where:
Annenberg Hall at Temple University in North Philadelphia, Pa.
Address:
Annenberg Hall
2020 N 13th St
North Philadelphia, PA 19122
WiFi
Projectors in every presentation room.
Saxby's coffee shop and 7-11 down the street.
Three short blocks from the Cecil B. Moore Broad Street Line subway stop.
Accessible from 30th Street Station and Philadelphia International Airport by train. Use the SEPTA system map.
Where should I stay?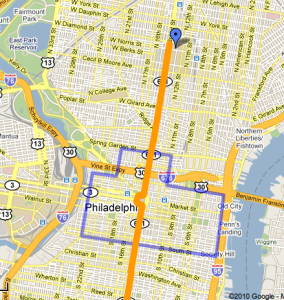 Several people have asked where is the best place to stay for BCNI.
It is probably best to stay in Center City Philadelphia and take the Broad Street Line to the event. Click the picture above to see our quick illustration of the area you want your hotel to be in. The closer your hotel is to the Broad Street Subway line (shown in orange) the easier your travels will be.
If you are having trouble finding a hotel, Visit Philadelphia has a handy hotel search that allows you to search by price and location (remember: you'll probably want Center City hotels).
Some people may even have a couch.
Need Parking info? (Street parking also available, though often crowded)