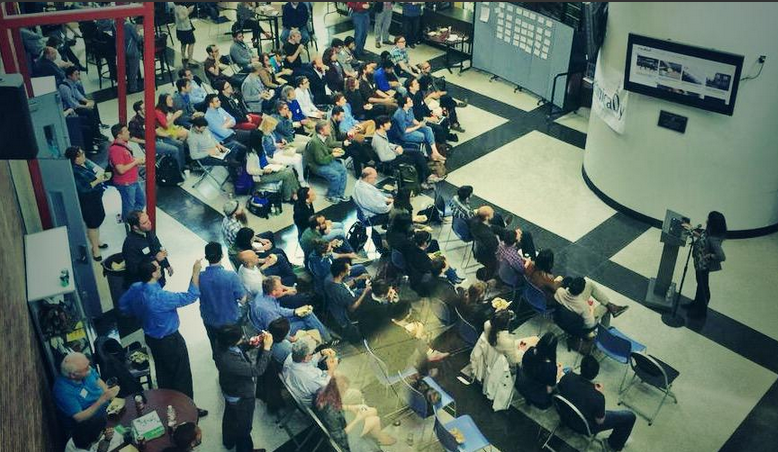 The seventh annual Barcamp News Innovation featured much conversation on news process and editorial products.
Rather than just sharing ideas, there was much tactics sharing too in sessions at the unconference, including a few pre-planned sessions and a keynote from Vox Media's Lauren Rabaino. More than 150 people came through the event, including representatives from the New York Times, Washington Post, NBC Nightly News, Business Insider, Google, Yahoo, Philadelphia Inquirer, Vox Media and many more.
A whole Slack channel on sharing tips spun out of the day.
You can find the spreadsheet of sessions created on Saturday here or find them below. (Geek out over tweets @BCNIPhilly)
9am doors open, the unconference board opened at 9:30am and sessions began at 10am:
10AM: All sessions ended at :50 to allow attendees to move between rooms
Room 03: OPEN
Room 04: Branded content, native advertising, content marketing, WTF!!! by Andrew Nusca and David Dylan Thomas
Room 302: How our newsroom makes 5 people look like 50 - @billy_penn @sacmcdonald
Room 304: 

What next - Hacks/Hackers Philly - Davis Shaver & Erika Owens
11AM:
Room 03: 

"The Future of OpenDataPhilly.org" - Robert Cheetham, Tim Wisniewski and Holly Otterbein

Room 04: Building Audience - Rise Above the Noise with Michael Riley & Ian Leibovici
Room 302: The best GIS examples for telling news stories with Andy Eschbacher of CartoDB
Room 304: 

Help this Philly Noob build a better Philly.com with Eric Ulken
12pm: Lunchtime Keynote from Lauren Rabaino, Director of Editorial Products at Vox Media
Find here the excellent slides from #bcni15 keynote @laurenrabaino on Building Better News Products @voxmediainc https://t.co/K62wTceE9b

— Barcamp News Innov. (@BCNIPhilly) May 2, 2015
1PM:
Room 03: 

Digital only, not digital first with Will Davis & Pattie Reaves, BDN Maine

Room 04: 

Snapchat, Kik and messaging apps for your newsroom - Michael Gold & Masuma Ahuja

Room 302: 

What does an informated public look like? - David Dylan Thomas - Open Discussion

Room 304: 

Let's rethink our relationship with readers! with Andrew Losowsky, The Coral Project
2PM:
Room 03: 

Al-Jazeera Canvas: An Open Innovation Community for Media with Andrew Thompson

Room 04: 

Big Media on the Web with Ian Rose + Brad Oyler @NBCNews

Room 302: 

We're fixing the Philly.com comments. (No, really!)

Room 304: 

Turning "Old" Media Into "New" Media - Taylor Lorenz & Andrew Nusca
3PM:
Room 03: 

So you want to be a freelancer (pitching, taxes, rejection & more!) with Andrew Zaleski

Room 04: 

News told through online maps with Stephen of Bloom

Room 302: 

Bringing structure and context to the NEWS by Andrew Nusca

Room 304: 

Periscope for Journalism w/ @jimmacmillan