More than 30 journalists and technologists came together in the new Inquirer newsroom today for an introduction to and brainstorming for the BCNI News Hackathon. See our event working document here.
The event, hosted by Interstate General Media and sponsored by the Center for Public Interest Journalism, included the highlight of a handful of hackathon projects that have continued to have success and then the sharing of ideas of data sets and projects reporters would like to see created next month.
The Knight-Mozilla Open News project also supported the time for organizing the event by sponsoring BCNI.
Projects Highlighted:
Hackathon Ideas:
localized version of Poligraft from Sunlight Foundation
Historical Commission released historic registry // visualize w/ tax delinquency (what is most at danger?)
local block level Census visualizing
Rental licensure locations compared w/ crime/or other mashup
restaurant inspections (lack of standardized)
gun ownership: WHICH MEMBERS OF THE LEGISLATURE CARRY HEAT?
Create stronger data source with new Sheriff's Sale .CSV data
Desired Data Sets
Improved data of city political contributions
Philly business license list, locations, zip code growth
stronger grouped list of data reporters want (build on OpenDataPhilly.org nominate)
Contextual/curation/visualization of existing data sets (tools)
Eminent domain records (digital format)
utility, wage, etc. tax delinquency — beyond property tax
parking authority violations by location
Look at Recorder of Deeds (Philadocs, but costly)
hospital data by treatments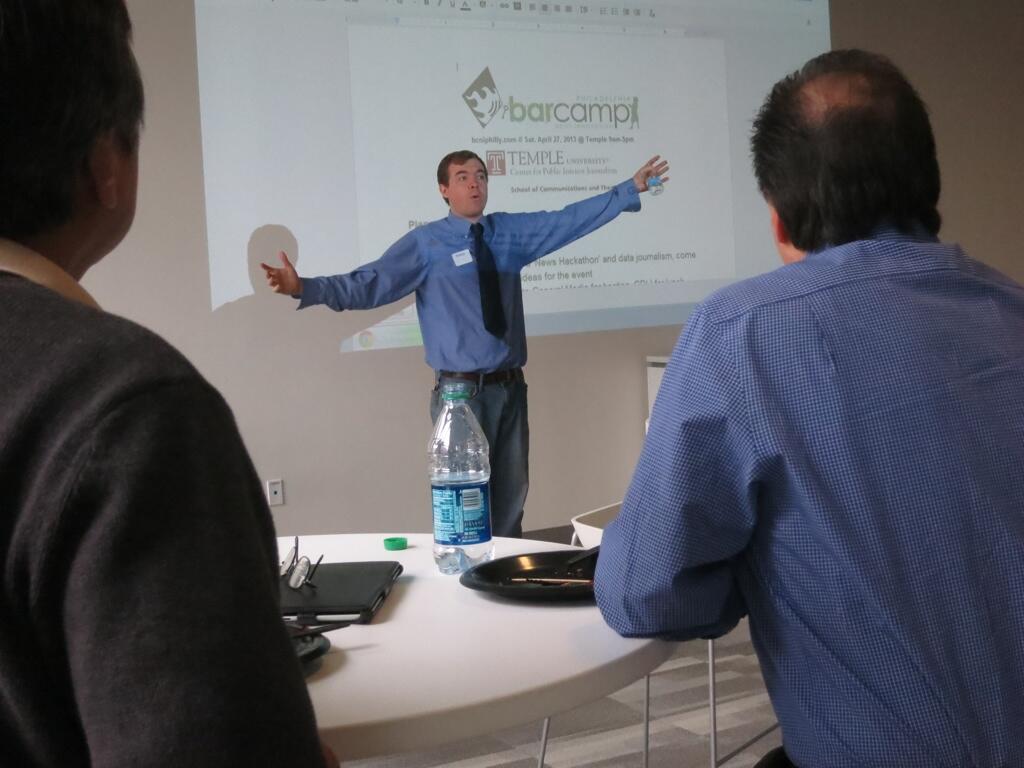 Attendees:
Lizz Fiedler — WHYY
Frank Kummer — Philly.com
Matt Golas — PlanPhilly
Emaleigh Doley — Next City
Isaiah Thompson — Axis Philly
Casey Thomas — Axis Philly
Pam Selle — Axis Philly
Chris Brown
Josh Cornfield — Daily News
John Mooney
Bob Warner — Inquirer
Marie McCullough — Inquirer
Ben Turk Tolub - Philly.com, Product Manager, Sports
Sulaiman Abdur-Rahman — Trenton Times
Patrick Kerkstra — Phillymag, PlanPhilly, freelance
Erika Owens — Knight-Mozilla Open News
John Armstrong - Project Liberty Digital Incubator and Drexel Co-Op
Mike Armstrong - The Business Desk, The Philadelphia Inquirer
Amanda Baker - Philly.com, Executive Producer, Health
Stirling Chen — Inquirer designer
Rose Ciotta - Local News, The Philadelphia Inquirer
Josh Cornfield - PhillyDailyNews.com Editor
Perri Duncan — Philly.com
Mike Lorenca - Interstate General Media Chief Operating Officer
Bob McGovern - Philly.com, Executive Producer, News
Lexie Norcross - Director, Interstate General Media; Vice President, Philly.com
Nancy Phillips - Interstate General Media, Assistant to the Publisher
Devin Ringwool - Project Liberty Digital Incubator and Drexel Co-Op