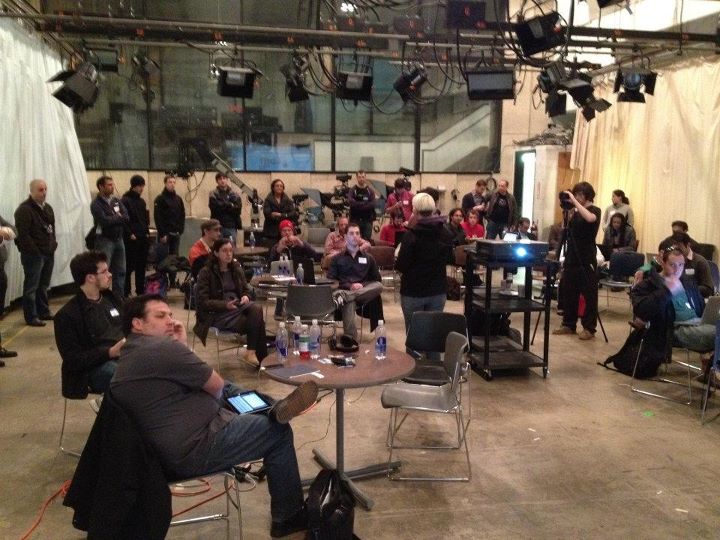 The second annual News Hackathon presented by Tropo held during BarCamp NewsInnovation had more than 40 participants, half of whom were developers and the rest were journalists. More coverage on Technically Philly.
They built mobile-focused tools that were aimed at informing underserved communities and were given prizes thanks to the generosity of the Center for Public Interest Journalism.
Projects:
FIRST PLACE Sheltr.org SMS add on: Text a Philadelphia or New Jersey address to 1-215-987-5377 and get nearby social services. It's an add on by developer Adam Hinz to a previous hacakthon project. ($1,500 Visa gift card)
SECOND PLACE (tie): LGBTRights.me led by Philadelphia Gay News Editor Sarah Blazucki, with activist Faye Anderson, Comcast developer Mike Ball, Indy Hall's Bula, Gabriel Farrell, Daniel Freiman, Casey Thomas and Code for America fellow Alex Yule, conveys how varied LGBT rights are by comparing by location. Visit it here. (Each team member received a $100+ Amazon gift card)
SECOND PLACE (tie): Switchboard: This mass survey tool was aimed at collecting information from taxi drivers but can have other application, says the original pitch from Bryan Mercer at the Media Mobilizing Project and Ron Blount of the Taxi Workers Alliance of Pennsylvania. The development team, which took on the hard work of building the thing, included Josh Marcus, and Bennet Huber of Azavea, Dan Feder and Bryan Purcell. Find the project GitHub here. (Each team member received a $100+ Amazon gift card)
Text Blast: The mass text-message information tool by Tim Wisniewski will help civic groups mobilize. Visit it here.
Money Talks: Focusing on the withering local campaign finance data from Our Philadelphia, journalists Tom Ferrick and Chris Brennan partnered with Comcast developer Karl Martino, Inquirer data visualization specialist Rob Kandell and Kristen Mosbrucker to collaborate on some data.
Councilmatic: The more flexible City Council legislation tool from Mjumbe Poe gained some ground.