Browsing articles tagged with " schedule"
BCNI is proud to announce our first ever shared session, led by Wall Street Journal Outreach Editor Zach Seward.
We're giving Seward 50 minutes show off what he's been up to of late. Look for data-driven experiments and projects from the Journal and Zach to followup his post at wsj.com about all the data the Internet collects about his daily life.
What to expect: We're still in the early days of social-media analytics: few standards, unreliable metrics, and a cottage industry of services claiming to solve the problem for $9 a month. But nuggets of insight are beginning to emerge along with a promising body of academic research. We'll review those findings, reveal some new ones, and explore fresh data on the spread of news and information through Twitter and Facebook.
The third annual BarCamp NewsInnovation Philadelphia, a one-day, national un-conference on journalism innovation and the future of news, is to be held April 30, 2011 at Annenberg Hall (on 13th by Diamond streets) Alter Hall on Temple University's campus in North Philadelphia.
What: BCNI Philly 2011, our third
When: April 30, 2011, doors open at 9 a.m., event from 10 a.m. to 4:30 a.m. with after party
Why: To share and steal the best of innovation journalism practices.
Who: A couple hundred journalism innovators from around the country, as organized by Technically Media, the dudes  behind Technically Philly.
Find the roundup from last year's BCNI here, including logos from some of the organizations represented here.
Other questions answered here.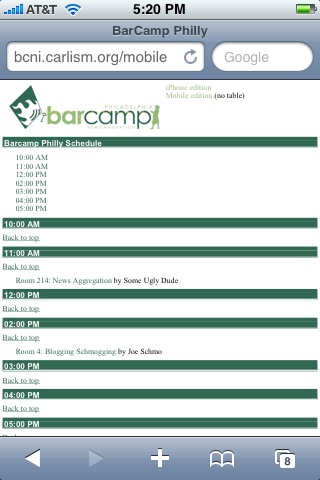 The Annenburg Building at Temple University has three floors where presentations will be given. However, our big schedule board will only be in the building's atrium. To solve this problem, Carl Leiby has kindly allowed BCNI Philadelphia (again) to use his awesome scheduling application.
The application, which formats the schedule to be read on iPhones and mobile devices, was originally used during BarCamp Philadelphia. That means there will be no need to run up and down steps to check and see what presentation you would like to attend next.
The schedule won't be live until Saturday, so bookmark http://s.bcniphilly.com on your phone.
While BarCamp has an open grid format, some attendees have reached out and told us on what they plan to present. Keep in mind that, thanks to BarCamp's structure, this could all change at any time. But hopefully, along with last years presentation list, it can provide some inspiration for other presentations. You are presenting, right?
Daniel Bachhuber  - Current state of Knowledge Management Systems: Daniel plans to explore the structured data could be categorizing in every story they write.
Mel Taylor, sales consultant - Profitable local news outlets
Andrew Mendelson, Journalism chair, Temple University: Temple University is poised to make the switch to a track-less journalism curriculum that emphasizes entrepreneurship and the web.
Drew Lazor, Food editor, Citypaper: Drew runs the one of the most popular food blogs in the city, Meal Ticket. He plans on offerring tips for leveraging the Citypaper's brand to win the competitive food blog wars in Philly.
Marc Steel, Online Editor, Citypaper: Marc never saw a database he couldn't whip into shape. Who knows what he'll talk about?
Jim MacMillan, Photographer/Founder, Who What Now: Jim hasn't told us what he's presenting, just that he is.
As of now the day will follow the following schedule:
9:00 a.m.: Doors open / breakfast
9:45 a.m.: Opening remarks, explanation
10:00 a.m.: First sessions
11:00 a.m.: Second sessions
12:00 p.m.: Lunch session
1:00 p.m.: Third session
2:00 p.m.: Fourth session
3:00 p.m.: Fifth session
5:00 p.m.: After Party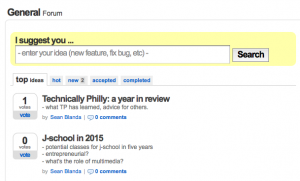 One of the complaints we received last year was that BCNI was a little too open-ended and hard to grasp.
To help get the creative juices going and prefill some of the presentation slots we're using uservoice.com to open the submission process to community.
Here's how it works: you submit topics that would like to see discussed and vote on other session topics you would like to see. On March 15th we'll pick the ones that get the most votes and solicit speakers. Feel free to volunteer yourself or others on uservoice.
If we get enough submissions, we'll fill 40 percent of the session topics out before the event and leave the rest for those who are more spontaneous.
Many thanks for Carl Leiby for offering his services as session card wrangler!
Below is the complete  BCNI Schedule. If your name is not next to your presentation, I apologize. Drop a comment below and I will fix it ASAP.
10 AM:
Newspaper Brand vs. Journalist Brand: who will have more clout in 2010
Beatblogging and Why News Should be Social by Pat Thornton
Public Access Partners for Community Jounalism by Jackie Hai, Richard Caesar and Fred Obeng-Ampofo of AmherstWire.com/UVC-TV
11 AM:
Washington Post Innovations Team: Making it pay and cool new things by WaPo Web ninjas
Information Overload: Strategies for Staying Sane and Making Sense of it All(And helping our audiences do the same)
Aggregating Community News & Citizen Journalism
Noon
How do you reinvent j-school for 2020?
Swarming Local News Now and in the Future… by Chris Krewson and Wendy Warren of Inquirer/Philly.com
2pm
Going Hyperlocal: How Media Companies Can Spur Community Journalism
Collaborating to curate the web by Publish2
What would you pay for to get news? (Revenue 2.0) by Chrys Wu @MacDivaONA
3pm
Swine Flu: Tracking and identifying ways information is being disseminated in non-traditional means by Daniel Bachhuber
Got an idea? How to get your editor to approve
Separating content from product by Jason Kristufek
Community News Startups with Technically Philly by Sean Blanda, Brian Kirk & Chris Wink
4pm
Making Money in the Web: Will a blog make you $$$ Which model works and which don't?
Reporting On The Backchannel for your beat by @reportingon and @copress
Using the Web to Brand a Print-heavy Community by NEastPhilly.com
5pm
Internet Advertising: What you need to know.
The Oncoming Revolution in College Media (it will be tweeted, btw) by CoPress
ECOmmunity Philly: connecting green activists to green journalists(Brainstorm) by Jared Silfies
BCNI has received several requests asked about the schedule for the day. Below is the plan of action. Remember, there are no planned sessions, attendees are expected to fill the schedule!
9am: Doors open.
10am: first round of sessions
11am: second round of sessions
noon: third round of sessions
1pm: Lunch break
2pm: forth round of sessions
3pm: fifth round of sessions
4pm: sixth round of sessions
5pm: last round of sessions
6pm: close
6:30: After party at National Mecahnics
Hope that helps! All of this will be in the program and in an email that will be sent to attendees before the event.
The details:
When:
4/30/10. 10 a.m. to 5:30 p.m. (Doors open at 9 a.m.)
Then?
After Party at Draught Horse
Where:
Temple University, Annenberg Hall, 13th and Diamond streets
Cost:
Free.
REGISTER TODAY